Here's a list of the best visual effects software for beginners and professionals, including paid and free ones.
Visual effects (or VFX) is the process of creating and manipulating computer-generated imagery. VFX is already an important part of filmmaking and is becoming more and more important these days. There are several types of visual effects such as modeling, animation, compositing and rotoscoping. Thanks to visual effects software, things can be a lot easier.
---
The best VFX software for beginners
If you are looking for an easy-to-use video editor with special effects that allows you to do some basic VFX, then Movavi Video Editor Plus can be the best choice. Movavi Video Editor Plus comes with over 200 built-in effects, not to mention the professional visual effect sets and packages offered by its Movavi Effects Store. With them, even beginners can create amazing videos. It's available for both PC (Windows 7 or later) and Mac (macOS 10.10 or later).
Easy for beginners
Many visual effects software programs used in the production of Hollywood blockbusters are node based. Unlike them, Movavi Video Editor Plus is layer based, which makes it's easy to get started. Its interface is simple, intuitive and easy to navigate. Novices can benefit from its mild learning curve, and advanced users can efficiently achieve the effects they want with high flexibility.
Tons of visual effects available for instant use
Sometimes, things can be as easy as drag-and-drop. Before diving into something more advanced, let's take a look at the video effects that are already available for use. The said VFX video editing software provides categories of effects for different scenarios. I think there will be always one fit for you.
LAVA
FANY INSTAGRAM STORIES
TRAVEL
MAGIC WORLD
VLOGGER ESSENTIALS
BRUSH AND PAINT
FUNKY VIBES
WEDDING
SPARKLING AND SNOWFLAKES
MILAN CHIC
ALCHEMY OF CRYSTALS
KIDS' TIME
HEALTH
ETHNIC MOTIFS
SCI-FI
PARLS STYLE
AND MORE…
Use it for compositing
As the best VFX software for beginners, it allows you to easily do green screen compositing. Drag the green screen video and your background footage into the program, then select the Overlap mode by clicking More Tools to make the foreground video completely cover the background video. Find and click the Chroma Key, move your mouse cursor over the player and click on the green color. Tweak the setting until you are happy with the result. It's that easy to key out green screen. If needed, you can crop out the unwanted part of the green screen video using the Crop feature.
You can also use it to easily layer your video, get picture-in-picture effect and add lens flares and light leaks to your video, among other things.
Use it for animation
This program also offers a set of powerful animation tools. There are preset animation effects, which you can directly drop into your footage. You can either select Easy Animation (Rightward, Vortex, Curl etc.) or Advanced Animation to set up the time and length of the animation using key frame.
What can Movavi Video Editor Plus do?
Do visual effects such as green screen compositing
Super easy and quickly to edit your video
Provide embracing built-in materials with music, short films and stickers
Trim, crop, rotate, layer and enhance the quality of the video
Support all popular video, audio and image formats
Add text, subtitles and audios
Add motion graphics
Apply filters, transitions and titles
Do video stabilization, speed control and audio separation
And much more…
---
Top 5 commercial visual effects software
#1 Autodesk Maya
OS: Windows, Mac, and Linux
Price: $195/month, $1,545/year, or $4170/3 years
Commonly known as Maya, it can be the best VFX software for Mac, Windows and Linux. It is widely used in the production of movies, TV series, video games and other works. Coming with a rich array of features, this VFX software program is great for 3D modeling, animation, rendering, motion graphics and more. It does a good job of allowing users to add details, lighting, colors and other effects to 3D models. The user interface is intuitive, allowing users to create and manipulate models in an efficient approach.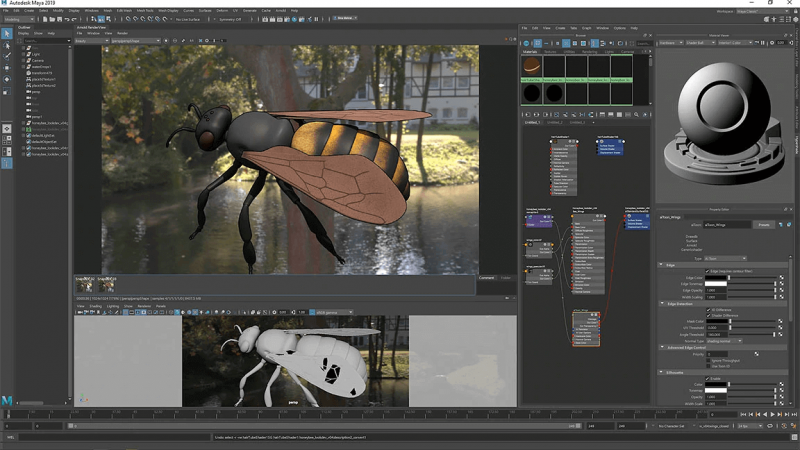 #2 NUKE
OS: Windows, Mac, and Linux
Price: $4,758 for NUKE, $8,853 for NUKE X and $10,248 for NUKE Studio
It is a VFX and compositing software program available for multiple platforms. There are three editions: NUKE, NUKE X and NUKE Studio. It's a powerful tool coming with great tools for compositing, rotoscoping, particle effects and more. The industry standard compositing software has support for 2D and 3D. Professionals will benefit from its considerable amount of visual effects capabilities. NUKE is node based, which makes it very efficient especially make it comes to big projects.
#3 Autodesk 3ds Max
OS: Windows
Price: $195/month, $1,545/year, or $4170/3 years
This powerful versatile visual effect software tool is designed for 3D modeling, animation, and rendering and is widely used in industries like architecture, design and video games. It excels at 3D modeling for both characters and objects and offers high performance when it comes to rendering. With it, users can expect high level of reality and detail of their works. For new users, it can be a bit difficult to learn. As one gets more experienced, one can explore endless possibility and make the most of this tool.
#4 Cinema 4D
OS: Windows, Mac, and Linux
Price: $59/month, billed annually
As one of the most popular visual effects software programs, Cinema 4D is widely used for organic and non-organic modeling, animation, rendering and other VFX tasks. It is commonly used in design, graphic design, animation, broadcast and other industries and is easily one of the best providers of 3D modeling and rendering solutions. In addition, it's also good at creating animations with impressive textures. Compared with some other VFX software, this one is very easy to learn. It offers a lot of useful plugins, which can make your work easy.
#5 Houdini
OS: Windows, Mac, and Linux
Price: Free and commercial versions
When it comes to visual effect software, we can't ignore Houdini. It is used by many big VFX companies such as Pixar and DreamWorks Animation. There are six versions, which makes the pricing a bit complicated. The free version is called Houdini Apprentice. It's free for non-commercial use only. Designed to be a visual effects and 3D animation tool, Houdini has been widely used in filmmaking video games production. The node-word workflow makes it popular among VFX professionals.
---
3 free open-source visual effects software
Commercial VFX software often comes with high price. The good news is that there are also some free, open-source alternatives.
#1 Blender
OS: Windows, macOS, Linux, FreeBSD, OpenBSD, NetBSD, DragonFly BSD and Haiku
Despite being free, Blender is powerful and versatile. It provides rich sets of tools for visual effects, 3D modeling, ragging, simulation, compositing, vide editing and match moving other tasks. It offers a complete set of tools for any type of 3D tasks. One of the great things is that you can download templates online and use them for your projects in Blender. Compared to most other VFX software, it's relatively small and lightweight. In addition, it's very customizable and flexible.
#2 Blackmagic Fusion
OS: Linux, macOS, Windows
This VFX compositing software program has a free version and a commercial version. It has been used in the productions of tons of Hollywood big movies such as Iron Man and 2012. Despite being free, the free version allows you to use it for commercial projects. It excels at visual effects, virtual reality and motion graphic tasks. Just like some similar visual effects software, it's node based, which allows high flexibility.
#3 Natron
OS: Linux, macOS, FreeBSD, Windows
Free, open-source and node-based, this freeware visual effects tool is easily accessible and easy to use. If you are a Nuke user, you will find its interface very similar to that of Nuke. It offers a number of functionalities for video tracking, keying, rotoscoping and keyframe animation. In addition, you will also find basic tools for image editing and painting.
---
Conclusion
If you are new to VFX and want to create a video or short film full of cool effects with the least efforts, you can use Movavi Video Editor Plus, the best video editor with special effects. You can do amazing video editing and compositing without leaving the app. It offers a great number of basic and advanced features and tools for all users. Most visual effects software programs are powerful, versatile and expensive. Thanks to the free open-source alternatives, everyone can have the opportunity to dive into the world of VFX.
Related Post
Phillips, Nina
It's not a surprise why many people look for dedicated video editing software. As we already know, video marketing is [...]
Phillips, Nina
Windows Movie Maker is regarded as the king video creation and editing software with all basic functions in its time. [...]
Phillips, Nina
You must have heard that most movie clips are made with green screen, big-budget films like Hollywood blockbusters are no [...]